Published on Friday May 22, 2020
The versatile world of Motor Boats
There are some of us who will never get enough of just "being" with boats. And in recent times , we note a tendency for those of us who are smitten with life on the water, to either flip occasionally between power and sail or, in fact, if the family is supportive, make good reasoning to own two boats.  One for the joy of sail, and one for the joy of motor.
Our CEO, Brendan Hunt, explores a bit of the "motor side"
OK, Let's accept that the world of power boats is as diverse as the world of sail.  So, up front I offer two exclusions;
I could not pretend to fully understand the world of smaller "speed-boats ", I love them, have owned them, but best I don't go there.
Nor do I fully comprehend the style of motor yacht designed for high speeds , fuel use and requiring of a set of sunglasses to match the window line surrounding the helm station.
No, dear reader, I plant my flag firmly in the sand in the world of Picnic boats and Trawler style cruisers. I have to say I have always had a passion for seaworthy displacement style boats of all sizes and shapes.
Growing up in Corio bay, I recall our family boat was a simple Couta boat, good for little else than a bit of fishing or an occasional motor round the Bay, but what joy it offered! It was 23 feet,  and ex fishing boat ,  powered with the reliably fickle "rugby "truck engine. ( I swear that engine had a personality)
In more mature years, I now take time to define and describe the virtues of good and traditional boat design. I will share a few thoughts
What would make a good picnic boat of between 24 – 44 feet?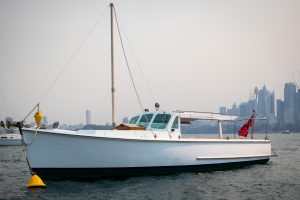 A picnic boat should be by design a large cockpit vessel, with basic overnight accommodation. Generally, they are a displacement style hulls for stability and comfort. They can start at 20 feet for an open style vessel and go through logically to 40 odd feet. The key features will be:
Generous cockpit.
A couple of berths , for an afternoon nap or maybe a weekend away
An enclosed head.
Diesel engine..
Basic cooking facilities ( if at all)
Somewhere comfortable to lounge and read the Sunday papers ( If anyone does this anymore)
"Occasional" seating ( folding chairs are Ok) around the picnic table
Aft access to a swim platform with a cockpit shower.
Conversely what could define a quality Trawler Style cruiser  between 35- 60 feet.
Seaworthy build and shape, often epitomised by a sweeping and raised bow section, with lower free board aft.
Displacement speed – offering a combination of comfort and efficiency ( hull speed is calculated as square root of the waterline length in feet plus 2). This is a good general rule, and a good trawler style will exceed this by 10-15%.) So a well set up 40 foot waterline vessel will achieve between 8-9 Kts.
A heavier style slow revving engine – The Gardner is the ultimate, but all manufacturers offer engine with similar characteristics.
General 2 x separate sleeping areas with private facilities.
Ability to store and deploy a good sixed tender for exploring and getting ashore.
Internal steering with easy side access and all-weather protection.
Why not take your own cruise through our selected boats and enjoy the variety and the stories they may offer.
The world of boats and yachting is fascinating and I hope you can join the Vicsail team and also take joy in yet another aspects of our shared passion.