The Cape40 - A new generation of tradition blended with modernism
The Cape 40 is the creation of Composites Constructions founder, Shipwright Stephen Campbell, with over 32 years of lightweight boat building in composites. Working with local Andrew Dovell Naval Architects and Hydra Yacht Design by Angelo Finocchiaro, the team have designed what Stephen describes as a modern version of the North American Lobster boat.
The Cape 40 meets the demands for a luxurious, well-crafted boat at an affordable price. Custom designed to deliver a stunning looking vessel. The Cape 40 exudes an environment of relaxed contemporary luxury, seamlessly fused with tradition. The exterior lines of the Cape 40 have been taken from the style classic North American Lobster boat, and has been tweaked to create a new style of boat.
The interior fit out is modern with touches of tradition throughout. The combination of painted surfaces, stylish cloth or leather trims and stunning timber detail throughout produce the perfect blend of a contemporary boat that emanates character and sophistication. The result is a striking, recreational vessel with copious comforts and near universal appeal.
The construction of the Cape 40 benefits from years of lightweight boat building knowledge which Composites Constructions is renowned for. The hull, deck and structural bulkheads are built with vinyl-ester resin, woven fabrics and light weight structural foam core and ply wood. There has been infinite devotion into the thought, design and construction of the Cape 40 which lead to the main distinguishing features such as the freeboard up forward for the effortless cruising, the cabin roof extending over 50% of the cockpit for excellent sun protection, and the main cabin roof equipped with eves to help keep the green water away. The Cape 40 comes standard with either Volvo or Yanmar engine package.
Boat Specs
Construction
Hull, Deck, Internal Structure – foam sandwich resin infused
Length
13.7 m
Maximum beam
4.26 m
Engines
600 HP
Water capacity
500 L
Guests
4 sleeping
Maximum Speed
26 knots
Cruising Speed
18 knots
Location
Melbourne, VIC
Price
ex - factory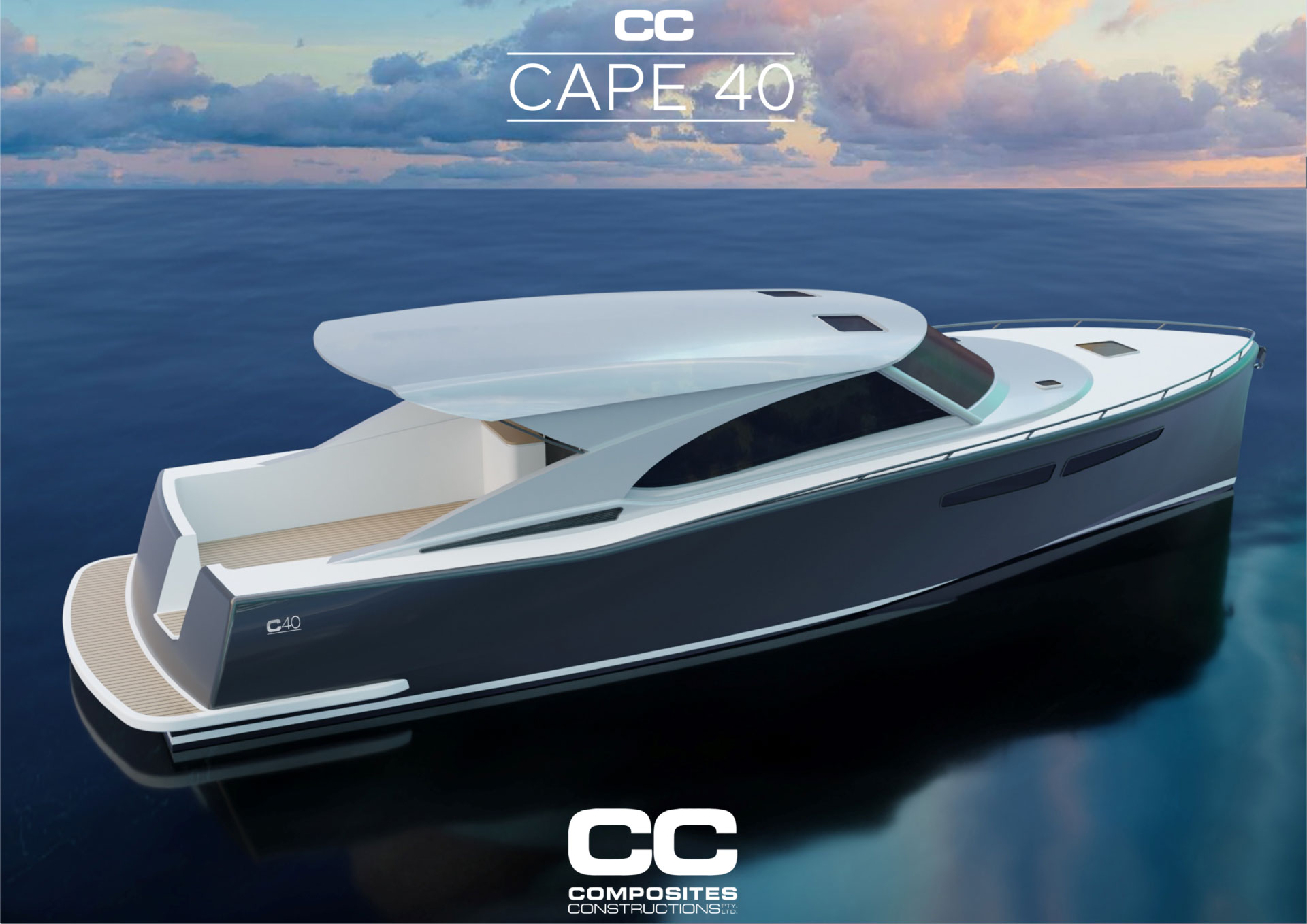 To find out more about this boat, please complete the following details.