Published on Friday December 13, 2019
Sincere congratulations to our clients, Belinda and Michael, on their new CNB Bordeaux 60, hull #43.
"Michael and I went to the Sydney boat show about 3 years ago and Brendan was showing the new 76′ CNB there.  We were suitably impressed with the yacht and told Brendan our outline plans to look for a yacht we liked that we would purchase in 2/3 years' time", Belinda, our client.
Vicsail were engaged as the "buyers" agent, which is a good idea for people to consider. It removes the hassle of searching and communicating with different brokers all over the world.
"The best part of this sale, was seeing how happy our customers were arriving to their new yacht and realising it was theirs!", David Sampson, our Sales & Projects Manager.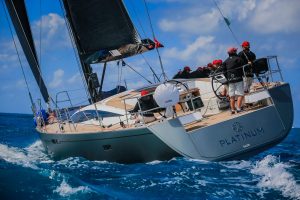 How did the sale of this CNB Bordeaux 60 happen
Our clients were specifically searching for a CNB Bordeaux 60. We had a connection to a boat for sale in Melbourne. As a "buyers' agent", we do all the hard work (spec, negotiations, contracts, title transfer etc). The cost is borne by vendor – free for buyers!
When you consider the yacht was in Melbourne, the buyer in Perth and broker in Sydney, there was a bit of juggling to do! To ensure our client got the best boat and deal out of this negotiation, Sampson, worked hard. With patience, providing clear and decisive communication to all parties which led to a good result.
Furthermore, Vicsail was responsible for arranging survey, professional hand over, sea trial weekend, managing service work, clerical services – rego transfer etc. In addition to it, our team is also giving onward assistance to new owners.
Here is a nice interview with Belinda, the proud owner of the CNB Bordeaux 60 "Platinum":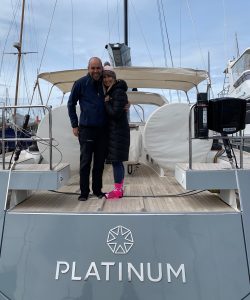 If you were to describe your experience with Vicsail to a friend, what would you say?
In one word: awesome!
What were the highlights of the purchase of Platinum
I think Michael and I would both say that the experience of buying a yacht and ending up with Platinum was enhanced around 1000% by having Vicsail involved.
Michael has spent a LOT of time researching what yacht he wanted. We then spent a lot of time flying to various places to look at yachts and dealt with quite a few agents.
Vicsail were, and by a huge amount, far superior to any other agents, we have come across. This is in regards to yacht sails but, as a very large construction company in WA that deal with a huge variety of suppliers, Vicsail's service level was second to none.
To say that nothing was too much trouble for them was an understatement.
Both Brendan, and then David, did more than I would have even thought was on the periphery of what a sales agency would cover.
Were there any speed bumps on the purchase process? If so, how did you think Vicsail overcame them?
Yes, lots. The first yacht we found we made an offer on which was accepted and a deposit paid. Only to find out via the sail agents, North Sails, that someone else was enquiring about the same yacht they had 'just bought'. We were gazumped!
Brendan was mortified, we were mortified but we agreed to stay in touch.
Michael and I then found a couple of yachts in Spain / France that we went to look at and we were going to purchase (we thought) one of them.
Upon returning to Australia we both agreed that we really wanted Vicsail to be involved in the process. Due to their experience, level of service and it gave us a great feeling of security knowing that Brendan would cover 'all the bases'.
Vicsail then got involved again on our behalf as our 'yacht sourcing team' if you like…
Following some good research by the team, we ended up finding Platinum. The process of going through the sale still was not easy, but Vicsail covered everything, and more…
Would you recommend us or buy from us again?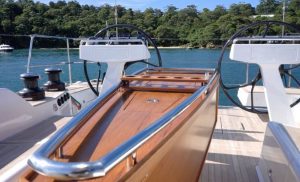 We have already been telling anyone and everyone we know about what a great company Vicsail is!
Honestly, we deal with a LOT of suppliers. I have dealt with a lot of International suppliers in my previous role as Commercial Director in the UK. I can honestly say that I am very impressed.
Nothing is too much trouble, they have an obvious love of yachts. It seems to us that it is the love of yachts and boats that is their main driving force. Not how much money they can make.
A truly refreshing experience and we would ONLY use Vicsail if we were to either sell or buy another boat.