Extasea has an impeccable history- Put yourself on the podium
Extasea's achievements include 4 ORCV Offshore championships, 5 Melbourne to Hobart's west coast wins, the inaugural Melbourne to Hobart east coaster and the 100th anniversary of the Rudder Cup to mention a few.
The boat has been professionally maintained and no expense has been spared in maintaining the boat by the current owner.
Extasea had new standing Rod rigging in 2018 ( $26K). The sail wardrobe is immense with separate Offshore , Regatta and inshore wardrobes with a selection of North, Quantum, and OneSails .
This yacht is ready to race, all you need is to service the liferaft
Owner keen to sell and as well as a huge price drop is offering "Vendor Finance" options.
For more information call  Bill on 0417114372
5 Reasons to buy this boat
Rod Rigging replaced 2018
New Engine May 2013, new SD50 saildrive 2016
Extensive Sail Wardrobes for Offshore and Inshore including North, Quantam and Onesails
Antifouled October 2019
Race ready, just put liferaft into survey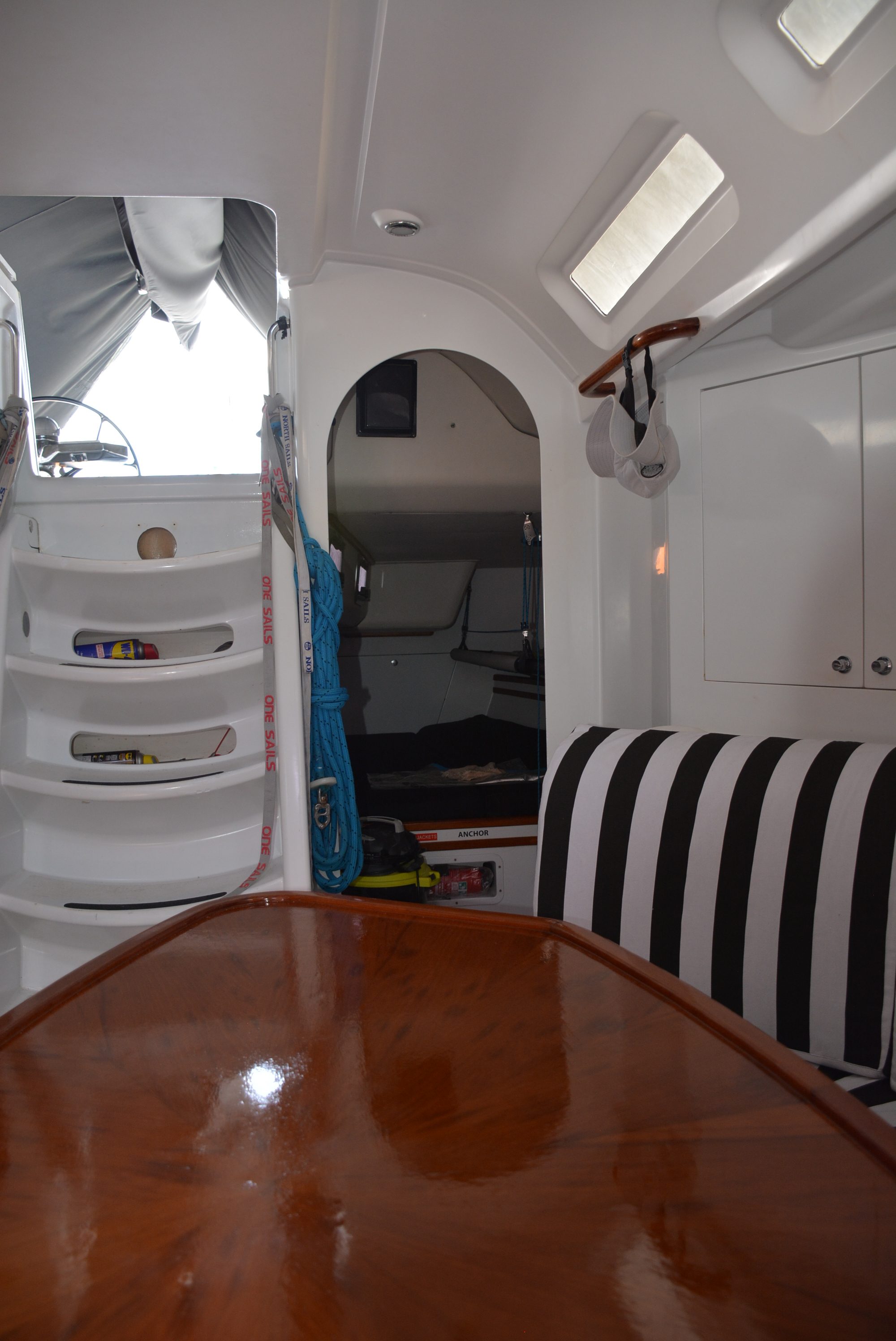 Boat Specs
Impeccable History
Race Ready
Podium Winner
Professionally Maintained
Boat Inventory
Reference Number

DK46
Make

DK 46
Model

DK 46
Hull Material

Cored molded Fiberglass Reinforced Plastic, (F.R.P.) composite: Corecell foam, Epoxy resin, woven and stitched Fiberglass fabrics, Carbon Fiber. FRAMING: Molded F.R.P. composite structural grid, stringers and frames and Molded F.R.P. liner.
Length

46
Price

280000
Region

Geelong
Location

25 Eastern Beach Rd, Geelong VIC 3220, Australia
Vessel Name

Extasea
Launch Year

2004
Beam

13.5
Draft

9.84
Displacement

19,030 lbs.
Deck Material

Foam cored Molded F.R.P. composite.
Keel / balast

iron fin, lead/antimony bulb: 8,800lbs
Designer

Mark Mills
HIN

MYDKC 460004C104.
Builder

DK Yachts, Malaysia
Registration Number

G4646R
Engine Make

Yanmar diesel.
Engine

Four cylinder, freshwater-cooled four stroke naturally aspirated diesel.
Yanmar diesel.MODEL: 4JH3E. SERIAL NUMBERS: E25042. New May 2013
ESTIMATED HORSEPOWER: 49 @ 3600 rpm/ 55 @ 3800 rpm.
New Morse Nov 2017, Single lever to cables to engine control arms.
No of Engines

1
Eecond Engine Hours

N/A
Horsepower

50
Fuel Capacity

150
Fuel Type

Diesel
Genset

ALTERNATORS: Hitachi 80 amp and Bosch 120 amp, both engine belt drive from power takeoff pulleys.
Propulsion

Yanmar SD 50 saildrive. : Gori 3 blade geared folding bronze
Thrusters

N/A
Deck

LINE CLUTCHES: (6) Spinlock XCS single, (2) in boom for reefing. (4) Spinlock XX 0812 single.

BLOCKS: (2) Harken 75 foot blocks, (2) Harken 57 sheet blocks, (2) Harken deck blocks, (6) Harken halyard blocks, (1) Harken halyard organizer.

OTHER: (2) Harken genoa track with adjustable sheet blocks.


Deck Gear

Harken
Ground Tackle

2 x Fortress light weight anchors and warps to Category 1 safety
Covers

Yes
Galley

Gas stove
Refrigeration

Eutectic fridge with both 12V /240V supply.
Water Capacity

Two Neoprene bladders. FILLS: At decks.CAPACITY: 150 litres each. Parmax 3 1000-0092, 12 VDC. Complete replumbing of water system 2019 with Dual water filters for using the bladders for drinking water rather that bottled water
Water Maker

N/A
Safety Gear

Full Cat 2 safety gear on board


Bilge Pumps

2 X Whale manual diaphragm bilge.
Life Raft

Yes, 1 X 12 Man Liferaft new NOV 13 1X10 Man Raft Last service 1X4 Man Valaise soft pack last service 11/18
Epirb

Yes
Life Jacket

12 PFD's
Flares

Yes
Fire Protection

Yes
Electrics

ELECTRICAL:

VOLTAGE: 240 VAC and 12 VDC.

BATTERIES: Three (3) group 27 AGM in parallel. One (1) group 27 AGM engine start.

ALTERNATORS: Hitachi 80 amp and Bosch 120 amp, both engine belt drive from power takeoff pulleys.

DISCONNECTS: Three (3) dual pole disconnects.

SHOREPOWER: 240 VAC 30 amp service brought aboard via Hubble type socket to dual pole circuit breaker, then to branch loads.

CHARGERS: Victron Energy 50 amp 3 stage, dual bank.

WIRING: All marine grade stranded tinned copper wiring, properly loomed and secured.

DISTRIBUTION PANELS: Paneltronics 24 breaker panel with line voltage display and amps display.



Navigation

PERFORMANCE PACKAGE: Ockam Tryad CPU, with Ockam T2 Multiplex. Performance data displayed via (4) Ockam Magnum Mast Displays in carbon Fiber module and (3) Ockam Matryx Multifunction Displays, bulkhead mounted.(2) Ockam Matryx Multifunction displays on steering pedestals
_Aqua meter Saturn bulkhead mount magnetic. Ockam fluxgate_

RADIO(S): Icom IC-M402 VHF, Icom IC-M802 SSB, both GPS enabled.

Icom IC-M88 handheld VHF.
Radio/Cd player with both internal and external waterproof speakers with Relay from VHF radio



RADAR: Nobeltec 2kw radar scanner on a custom carbon fiber post.

FLEET BROADBAND: Skipper 150 Fleet broadband with antenna fitted

GPS: Raymarine NMEA GPS

DEPTH SOUNDER: Ockam display with B&G hull sender.

AUTO PILOT: Raymarine Smartpilot with remote control and 12 VDC electro- hydraulic linear drive arm, and ruder angle detector. Own GPS aerial
12 VDC Computer hard drive, Advantech micro-computer , connected to a Proview LCD display at navstation. for navigation and tactical software with Expedition and Maxsea Time Zero.


INTERNET: Netcomm MtM NTC140 broadband router and Sim card with amplification hardware and aerial for 3G and 4G reception connected to computer.

AIS: Comar Class B AIS system connected to computer software with own separate GPS aerial


Sail Inventory

Regatta:
Mains: 1 short Hoist main 2007 excellent
1 regatta main 2010 excellent
Headsails:
Code1 .Quantum Fusion 2009 Excellent
Code 2. " " 2011 Excellent
Code3. " " 2011 Excellent
Code 3.5 " " 2011 used twice
Code 4. " " 2011 Never Used
ClubSails:
Main: 1 Doyle 2009 fair
Headsails:
Code 2 Quantum Fusion 2009 Good
Code 3. " " 2009 Good
Code 3.5 " " 2006 Fair
Code.4 Quantum Panel 2007 Good

Offshore Sails
Mains:
1 Quantum Carbon Panel Main 2007 Good

Headsails:
Code2. Quantum Fusion 2009 Good
Code3 " " 2009 Good
Code 4. as perClub Sails
Code5. Quantum Fusion 2007 Excellent (never Used)
Spinnakers:
Symetrical:
1X S2 2008 Good
3X S4. Regatta ( Blue)2010 excellent
S4 Club Good
S4 Offshore Fair
Asymetrical:
A1. Regatta 2011 Excellent
A1 Club Good
A2 Regatta 2010 Excellent
A2 Club Good
A3 Regatta 2011 Exccellent
A3 Club Good
A5 ( Offshore) Good
Code O Good
Staysail Good
Delivery Main Dacron Good

STORM SAILS:
Trysail
Storm Jib


Mast Rigging

SPAR: Carbon Fiber double spreader fractional mast with Carbon Fiber Boom. STANDING RIGGING: All discontinuous rod rigging.replaced 2018 ($26K) RUNNING RIGGING: All synthetic Aramid/Technora and Spectra. HYDRAULICS: Fleet Hydrol manual system for boom vang, backstay and outhaul. Dual control panels in cockpit. Fully serviced Nov 2018
General Remarks

The boat has been continually upgraded by the current owner to ensure it is one of the most competitive DK 46's around.
Short Description

Podium Winner
Disclaimer: Whilst every endeavour is made to ensure the accuracy of information provided, details are intended as a general guide to the vessel and its contents. Details are supplied by sellers and the accuracy of those details cannot be guaranteed by Vicsail.
To find out more about this boat, please complete the following details.