Vicsail is very excited to offer the Infinity 46- Maverick. A very special yacht!
Infiniti Yachts features the DSS (Dynamic Stability System) designed by Hugh Welbourn. Maverick is All- Carbon
Fibre performance racing yacht, specifically set up for Offshore Ocean Racing.
Maverick is professionally maintained and is continually updated for performance and rating for both IRC and ORC. She is totally turnkey ready to win races such as the Sydney to Hobart in 2021!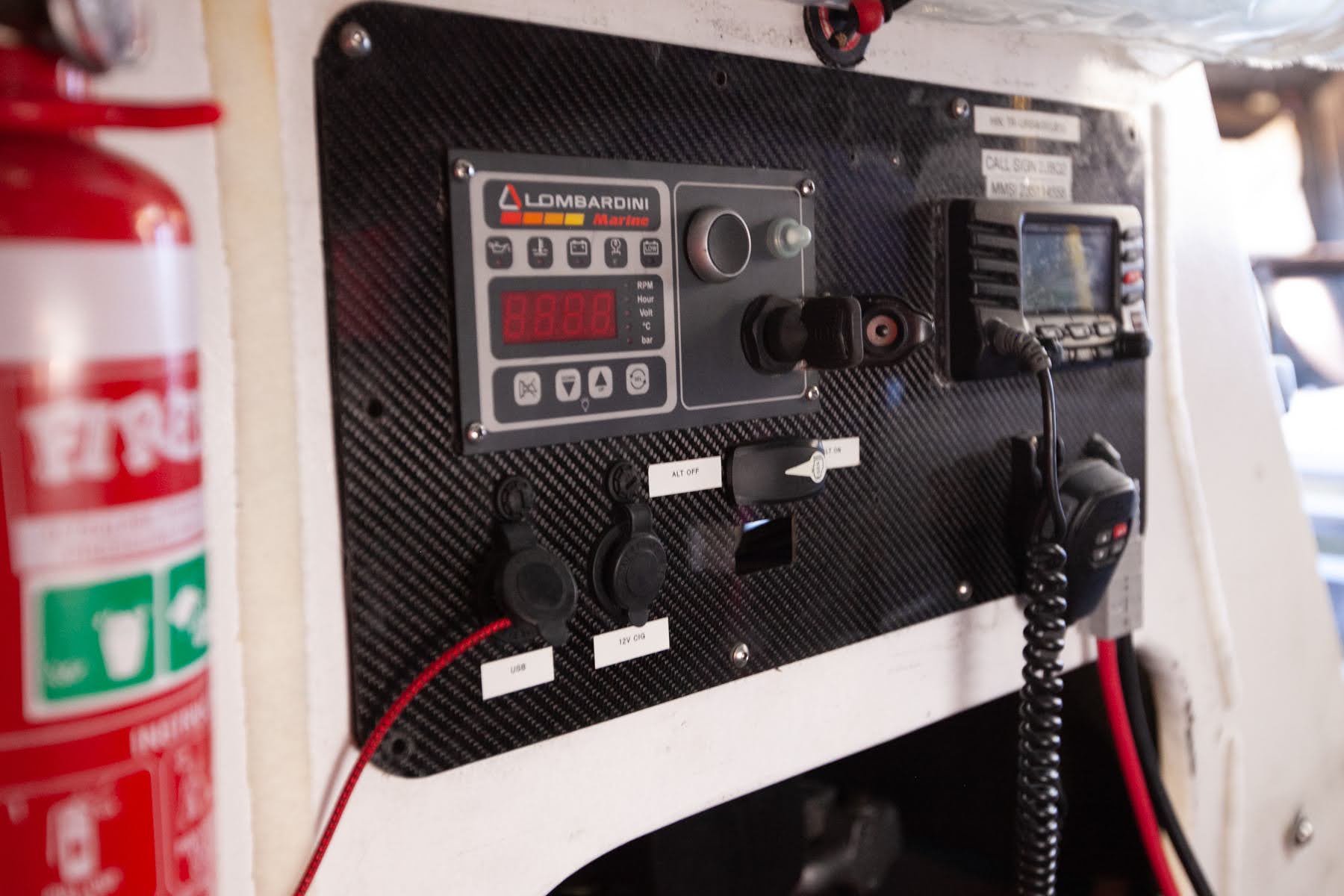 Boat Specs
Model
Infiniti 46
Launched
2016
Length
16.60 m
Location
Sydney, NSW
Price
$ 799.000 AUD (ex-tax Australia)
Boat Inventory
Reference Number

Maverick
Make

Infiniti Yachts
Model

Infiniti 46
Hull Material

Carbon foam sandwich
Length

46
Price

$ 799.000 AUD (ex-tax Australia)
Region

Sydney, NSW
Vessel Name

Maverick
Launch Year

2016
Beam

3.90 m
Draft

3.01 m
Displacement

5600 kg
Deck Material

Carbon foam sandwich and composite
Keel / balast

Milled steel fin and components all by Cariboni
Designer

Hugh Welbourn
Builder

Infiniti Yachts
Engine Make

Lombardini LDW1404
Fuel Capacity

85 L
Fuel Type

Diesel
Propulsion

Carbon fibre retractable propulsion system with Titanium prop shaft. 3 blade Aluminium Prop (prop speed painted) and spare
Deck

Full Harken fit-out including:
- 5 x Harken 65.3 winches. 2 x electric primaries, 1 x electric mainsheet and 2 x runner
- 2 x Harken 50.2 pit winches
- Alloy frames for pit and primary rope bags
- Deck gear bag with 2 x tweakers, 2 x Hady Billies, 4x open blocks/antal clip on hooks
- Winch handles etc
Accommodation

Race boat interior with basic galley area, storage and tacking navigation station aft. 8 x berths and
Jetboil with gimble for boiling water in galley, DC freshwater pump with outlets in companionway for on deck and in
galley and LED lighting throughout.
Safety Gear

Maverick is set for Category 1, last audited September 2020. Inventory as follows:
- Ocean safety 8-man Life raft ISO9650-1(last surveyed Apr 2019)
- 10 x Spinlock lifejackets (with AIS fitted)
- Flares, V sheet etc
- Medical Kit (less controlled substances)
- Grab bag
- 2x fire extinguishers
- EPIRB
- hand held compass
- emergency SART and VHF aerials
- refillable emergency water containers 8 x 4L
Electrics

-Bosch compact alternator 24V/150Ah
- House Battery: Mastervolt MLI Ultra Lithium-Ion Battery 24V/5000AH
- Starter Battery: Lightweight Lithium-Ion 15P-EC (60Ah/2200A discharge)
- DC24-DC12 Victron energy charge controller to keep starter battery charged from house
- Switch panel for systems onboard and Mastervolt Battery monitor
- Mastervolt shore charger
- Electric bilge pumps
Navigation

- Instrument package by NKE (regatta processor), 2* wind wands (1MHU as spare), depth, sonic speedo, (paddle
speedo as spare), regatta compass, NKE GPS
- 4 x mast displays (1 of which is multi graphic), 2 x cockpit multi graphics
- Sailor 150 Fleet Broadband Sat Phone
- Handheld VHF with GPS and DSC (Horizon)
- Fixed VHF with DSC and GPS (Horizon)
- ICOM IC-M801E MF/HF Transceiver with backstay antenna and emergency whip antenna
- Digital yacht AIT2000, CLASS B AIS TRANSPONDER
- Digital yacht SPL 2000 AIS – VHF Splitter
- Standalone AIS GPS antenna
- Backup Garmin 19X GPS antenna
- Commset Dual Band Dual Sim Gigabit 4G router
- MOXA n-port 5410
- Mintaka Star Barometer, USB, and Wi-Fi
- Diverse Load sense on Forestay
- Diverse Load sense on GS/Jib tack
- Cariboni PLC to drive Hydraulic systems
- Cariboni sensors on keel rams integrated with NKE displays
- Zebra waterproof touchscreen tablet PC with docking station. Allows wireless connection to instrument to perform
navigation tasks from anywhere on boat including on deck.
- iPad for on deck screen mirroring of PC (when PC in dock)
Sail Inventory

All Doyle Sails Stratis. Inventory as follows:
- Offshore mainsail (2 reef) 2016 (delivery)
- Inshore Mainsail (1 Reef) 2017 (Rating condition 7)
- Offshore Mainsail (3 reef) 2019 (7)
- Offshore Mainsail (3 reef) 2021(new deposit paid only)
- J1 structured luff jib 2020 (9)
- J2 structured luff jib 2020 (9)
- J3 structured luff jib 2020 (8)
- J4 furling Solent 2021 (9)
- J4 Jib 2017 (3)
- GS/Storm stay sail, structured luff, orange 2020 (7) (rig is set up to run triple headed)
- Spinnaker staysail 2020 (unused - 10)
- BRO structured luff 2019 (8)
- FRO structured luff 2020 (9)
- FRO structured luff 2017 (4)
- MHO structured luff 2020 (8)
- R1 structured luff 2019 (8) (Code 0 for ORR rating rules)
- A1.5 2017 (7)
- A1.5 2016 (Delivery 4)
- A2 2018 (6)
- A2 2019 (7)
- A3 2018 (8)
- A4 2020 (8)
- Delivery jib Dacron 2018 little use.
- GS 2019 Structured luff furling (no longer in use due to updated sail plan)
- AP Jib (used for deliveries)
- Mainsail boom cover
- 2* Karver KF (5) furling units
- 1* Karver KF (2) furling unit
Mast Rigging

The mast is a 2 spreader, fractional carbon from Axxon and is deck stepped. Details as follows: - Aluminium Karver mast track with all bolts Titanium - EC6 rigging new April 2019 (replaced as previous was PBO) - EC6 backstays new Aug 2019 - Karver halyard locks on 2 x mast head, 2 x Fractional. 1 x Jib. The boom is also carbon and is set up for three reef mainsail. Reefing can be single line or traditional luff-line and outboard reefs. Running rigging: - Halyards new for 2019 Hobart and 7/10 condition - All sheets new for 2020 Hobart (not used) - All ropes replaced well before end of life for maximum reliability
General Remarks

Extras and spares:
- All mechanical detailed service documents included, hard and digital copies
- Engine servicing + spare filters, anodes etc for full yearly/ half yearly servicing
- Enerpac rams and hand pump for mast jacking, incl additional spare shims
- Spare primary turnbuckles for different rig rake/ Jack combinations
- Spare hydraulic oil, filter, hose end fittings and general manifold servicing parts
- Hydraulic ram (traveller)
- Mast track section
- Keel trolly + hand pump jacks for easily removing keel and servicing
- Keel pin jigs and pins for easy location of keel bearings
- Battens and batten end fittings
- Extensive Karver lock spares and servicing kit
- Extensive Harken winch spares kit
- Specialist tools required for all regular servicing requirements
- Water maker servicing kits
Disclaimer: Whilst every endeavour is made to ensure the accuracy of information provided, details are intended as a general guide to the vessel and its contents. Details are supplied by sellers and the accuracy of those details cannot be guaranteed by Vicsail.
To find out more about this boat, please complete the following details.