Swan 82 Grey Goose
This Nautor's Swan 82-010 FD "Grey Goose" has been built for two defined missions. One is luxurious and short handed family cruising with performance but without any stress on deck. The second mission is competitive racing in all conditions inshore as well as offshore and even transatlantic racing.
She is not a pure race boat, even more, she demonstrates the real Swan DNA by accomplishing both missions in a perfect manner being comfortable, sea worthy and very fast.
Even if she seams to be quite racing oriented in some aspects Grey Goose has spent roughly 85% of the owners sailing time in Family Cruising mode.
An extensive upgrade program of several hundred thousands euros in Winter 2008 added a lot of value to the boat. Complete retrofit to Futures Fibres PBO standing rigging combined with fitting a carbon fibre headstay foil represents a total weight saving of 300kg out of the rig. Consequently, fitting a new high performance racing T-keel designed by Frers brought down the centre of gravity and improved acceleration, pointing angles and slot keeping dramatically. The sail wardrobe is complete both for Racing and for Cruising. Grey Goose is undoubtedly in outstanding mint conditions. Although many upgrades came out of racing needs most of them enlarge as well the fun factor in Cruising like less pitching, fast acceleration and direct steering.
In the summer of 2012 Grey Goose underwent a second extensive refit. This included upgrading the standing rigging to Southern Spars EC6 continuous carbon rigging, painting the hull topsides and aft cockpit, upgrading to VSAT satellite communications, a new generator, as well as many other upgrades and improvements. Grey Goose has been rigorously maintained by her owner to keep pace with the numerous technological advancements in luxury yacht construction since her launch. This gives her a modern, contemporary feel, comparable to the very latest generation of Swan yachts.
In the winter/spring of 2016 a new Hall Spars high modulus carbon fibre mast (same dimensions as her original mast) has been installed with four low profile spreaders, giving more strength and reducing weight with approx. another 350 kg and use of halyards slots. EC6 standing rigging (2012) checked. The new mast has made a considerable improvement in upwind and overall performance.
In September 2017 her mast was stepped down for the 5 year service of the EC6 rigging and fully serviced. Winter period 2017/18; major generator service (5000 hrs.) and 2/18 haul-out for new antifouling.
Boat Specs
Length
24.89 m
Beam
5.86 m
Draft
4.30 m
Year
2006
Construction
Monolithic Glass/Kevlar & Vinylester hull, Carbon sandwich deck
Displacement
42500 kg
Design
German Frers
Engine
Cummins 180 Hp
Fuel tank
1750 l
Fresh water
1200 l
Price
€ 2.750.000 (VAT paid)
Location
Badalona, Spain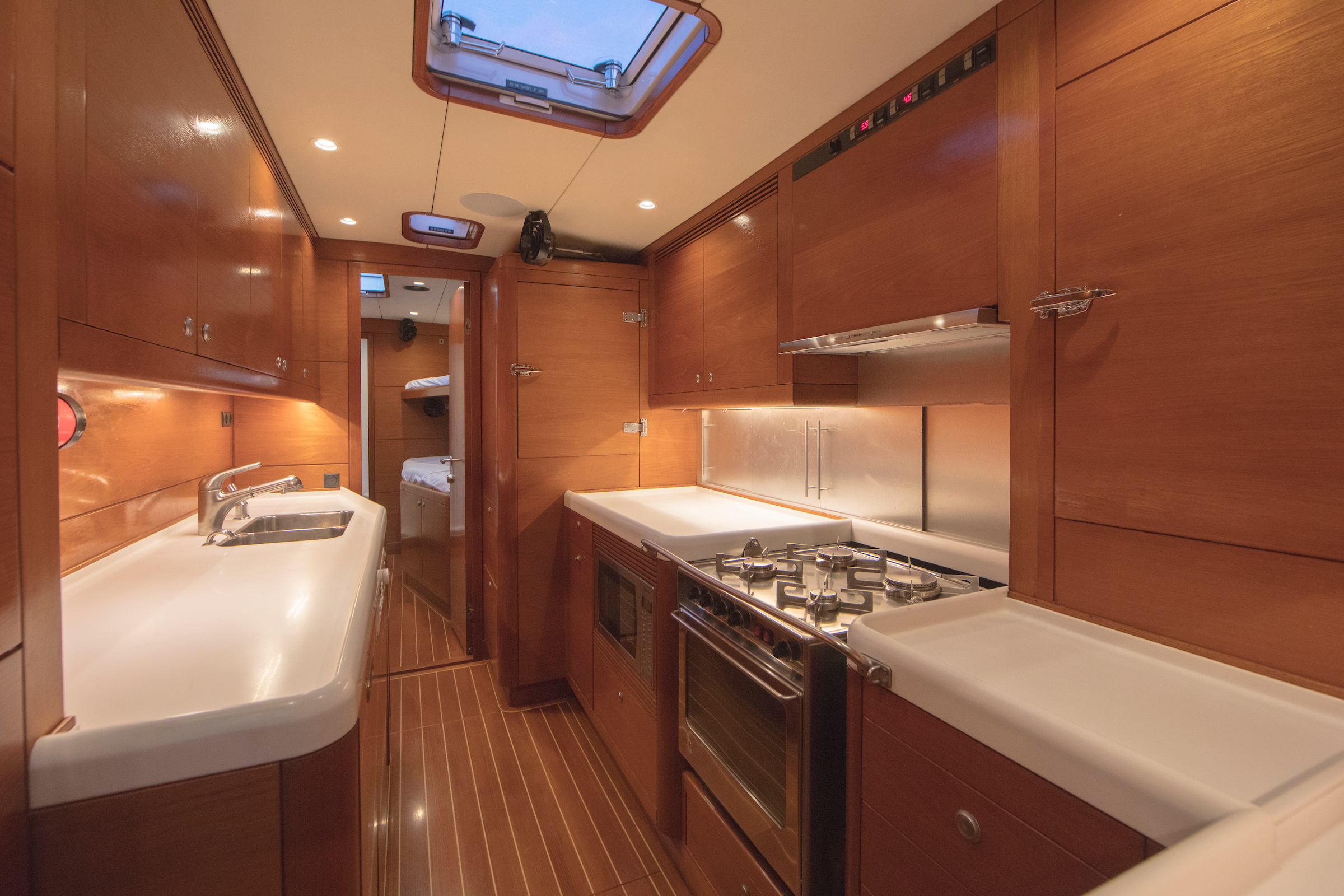 To find out more about this boat, please complete the following details.